Songs that will make you want to get up and start dancing! These songs are upbeat and have fun/difficult dance moves. If you have nothing to do and want to try something new, try learning these dance moves! It'll be fun and get you ready to participate in dance competitions for KCON! 😉  For this list, I will put both the dance practice/live performance and the music video for those who are interested in learning the dances. Enjoy!
I Just Wanna Dance – Tiffany
It's not a difficult dance at all but it does involve a lot of foot work and floor dancing. Having to constantly shift from the ground and to your feet could get a little tiring but it's a great song to get yourself warmed up.
2. Free Somebody – Luna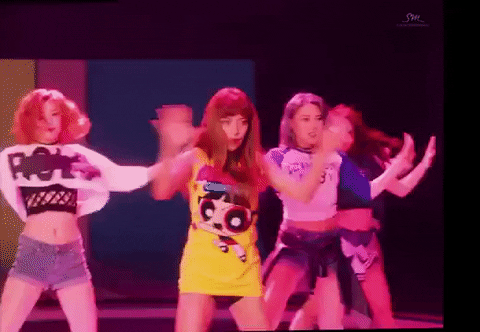 Again, not a very difficult dance to learn but this song has a lot of abdominal movements, the hip motions can really get to you. It involves constant jumping and moving that can tire you out but it's definitely a fun dance to learn and it could be a great workout!
Free Somebody (Dance) / Free Somebody (MV) 
3. Very Nice – Seventeen
You might want to move all of your furniture out of the way because this one will definitely get you moving! "Very Nice" is definitely a more advanced dance, it involves a lot of footwork and constant twists and jumps. The dance is continuous from beginning to end, but if you really try it won't be such a difficult dance to do.
Very Nice (Dance) / Very Nice (MV)
4. The 7th Sense – NCT U
This dance will definitely get you sweating! To learn it you need to make sure your body is loose and strong, it is a lot of body rolling, fast paced dancing, and spins/jumps. This has to be one of the most difficult choreographies I have tried to learn. It's very tiring but it's worth all the effort in the end. It is also way more fun learning this dance as a group!
The 7th Sense (Dance) / The 7th Sense (MV)
5. Like Ooh-Ahh – Twice
Not a hard dance but it is pretty fast paced. It has more stiff movements so a little body control is needed to perform this. It is a cute but very energetic dance. Also, the break down is amazing, by far the best part of the dance!
Like Ooh Ahh (Dance) / Like Ooh Ahh (MV)
6. Fire – BTS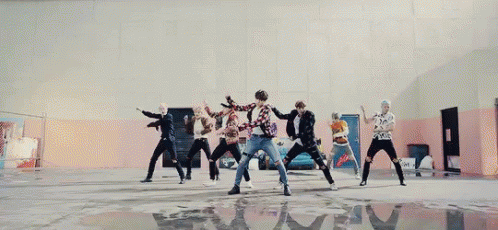 Get your sweat buckets ready, you're gonna need them! There is a reason why this song  is titled "Fire" and that's because your body is gonna be burning when you perform this dance. It is non stop, literally. As soon as you hear the beat stop, you better prepare yourself because you're in for the most intense dancing of your life.
7. Hobgoblin – CLC
This song puts you in the zone! This dance is sharp and badass! You have to be able to loosen up your body but also making sure you are able to keep up. These girls are not kidding around with this choreography. Seriously, this performance is pretty hard but is so much fun to learn.
Hobglobin (Dance) / Hobglobin (MV)
8. Crazy – 4Minute
How can I not put these queens in here? If you want to feel badass and sexy and the same time, this choreography is definitely for you. This dance has a lot of abdominal movements as well but that's what gets you going! One of the most fun choreographies I have learned. Trust me, this dance will make you go C-R-A-Z-Y!
9. Dumb Dumb – Red Velvet
All I got to say is, "it's all about the pelvic thrusts!" This dance is all about hip movements, it has a lot of body motions as well. You will love learning this dance, it's so much fun!
Dumb Dumb (Dance)/ Dumb Dumb (MV)
10.  Catch Me If You Can – Girls' generation (SNSD)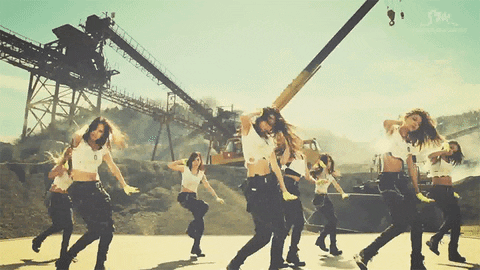 Catch Me If You Can? More like, Catch Up If You Can. The choreography has so much going on you don't know where to begin or where to end. SNSD have outdone themselves with this intense performance. If your looking for a body workout, this dance is definitely one.
11. Hard Carry – Got7
This one has a lot going on as well, with all of the different positions, footwork, and the break down. This is another dance that is a gun and great work out, I really recommend learning the choreography.
Hard Carry (Dance) / Hard Carry (MV)
12. Monster – EXO
This dance is just great! Involves a lot of foot work and upper body movements. It is really fun to perform, especially as a group because you are able to create the formations and make the dance complete. This is also a highly recommended dance to learn.
Monster (Dance) / Monster (MV)